The Back Pack Presents:
Wear and Tear
Edmonton and Philadelphia
This touring edition of Wear and Tear featured 55 minutes of non stop action, taking three large pieces and remastering them for the road. The Philadelphia Fringe festival marked the first performance for performers Delanté Keys and Cami Alys.
Sugar Swing Ballroom
10019 80 Ave NW, Edmonton, AB
Aug. 16 at 3pm, Aug. 17 at 3pm
Aug. 18 at 8pm, Aug. 19 at 6pm
Aug. 21 at 9:45, Aug. 22 at 8:45
Aug. 23 at 7:45, Aug. 24 at 5pm
Philly Improv Theater at the Adrienne
2030 Samson Street
Sept. 5th at 9pm
Sept. 6th at 9pm
Sept. 7th at 2pm and 9pm
Sept. 8th at 2pm and 7pm
The Back Pack Presents: Spring 2019
Wear and Tear
The Back Pack's imaginative style has been described as: "a live action cartoon", "unmatched in its cleverness", and "pure entertainment that will leave you with a smile on your face and a glow in your heart". Wear and Tear is a series of pieces of original work pulled into a single evening. Their unique brand of story telling features line drawings on large pads of paper strapped to the performers. The Back Pack also welcomes aboard lighting design extraordinaire, Jacqueline Sindelar, who will be working her magic to blast them off to new a new dimension of dance theatre bliss.
April 4-7, 11-14, 18-20
Whisenhunt Stage at Zach Theatre
Thurs-Sat, 7:30PM; Sun @ 2:30 pm
The Back Pack Presents: Spring 2018
Upstaged
Upstaged was a return to the shows of old, with out a unifying theme other than the intertwined senses of chaos and whimsy.
It featured a large new work, Jetlag, that combined a view from above with rolling scooters, paper pads, and a time delay to reward curious viewers with a live taste of sections to come in advance of them being projected above.
Table Topsy Turvy

Hat Tricks

Secret Clean Up
Soul Mates (digital short)

How to Wear Your Backpack

Magic Box
The Back Pack Presents: Fall 2017
Felt Up
Felt Up was the first foray into the world of Muppet-style puppets for the group. The show featured six new pieces, with four of those using the felt and fleece doppelgangers.
It also debuted the first paper piece, Keeping It Brief, since January 2016.
I Owe It All to Yooouuu
Sometimes You Wanna Go
Keeping It Brief
Soul Mates
Painting with a Twist
JoAnn Trailer
How to Finish a Sentence
The Back Pack Presents: Summer 2017
Throwing Shade
Throwing Shade featured fully projected pieces, creatively blurring the lines between animation and live performance. Included pieces ranged from interacting with geometric shapes, to colorful dance numbers, to a full ten minute car chase scene. Because the format differed from previous shows, all of the content had to be created from the ground up for the show.
The one exception, was a re-imagined version of a zombie train takeover turning it into a shadow piece, instead of live dance number.
Here, Everything's Batman
My Narcisscistic Fever Dream
Fake It 'Till You Bake It
Auto Body Experience
Throwing Shade
Unpredictaballs
Water We Dew?!
Glowing Postal
The Back Pack Presents: Winter 2017
The Best of
The Back Pack
The Best of The Back Pack took the crowd and performer favorites from the last four shows and gave them another chase to shine. It also featured two new pieces; Give an Inch, which featured a six foot tap dancing inch worm, and Employee of the Month; a classic clown scene made in collaboration with Ezra LeBank.
Mourning
Employee of the Month
Breaking It Down: A Guide
Use Your Noodle
Give an Inch
Bus Stop It
Sunsitive
The Back Pack Presents: Fall 2016
Table Topsy Turvy
The Back Pack Presents: Fall Showcase 2016 tackled a gigantic project in a new piece, Table Topsy Turvy. It featured a rotating multilayered table, and wearable small paper pads combining much of what made conventional paper pieces successful with a unique media approach. The top view of the table was view-able live via projection above the action, effectively making two simultaneous pieces weaving in and out of each other.
Cookies
I Scream (film)
Table Topsy Turvy
How to Wear Your Backpack
Pressing Issues
Bus Stop It (film)
The Back Pack Presents: Summer 2016
Sunsitive
The Back Pack Presents: Summer Showcase 2016 featured a full length shadow puppet piece, Sunsitive, which follows the story of a boy unable to take part in outdoor activities due to an inability to be in the sunlight. The piece is based on a true story, and uses over 20 minutes of animation, and almost 100 individual puppets. The show was awarded Best Media Design at the 2015-2016 B. Iden Payne Awards.
Mourning (film)
How to Finish a Sentence
How to Crush Crayons
Sunsitive
Cup of Tease
The Back Pack Presents: Spring 2016
Breaking It Down:
A Guide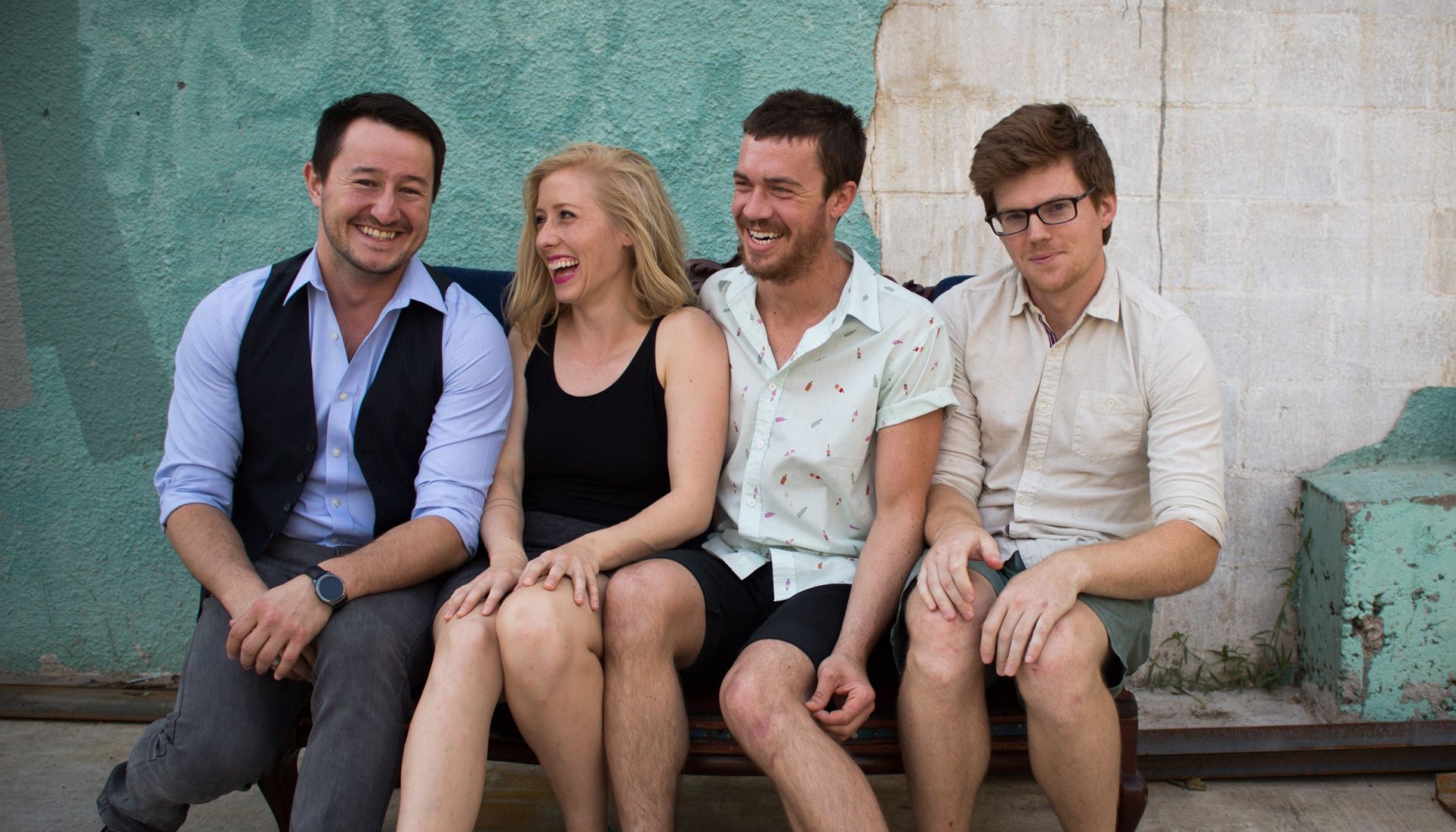 The Back Pack Presents: Spring Showcase 2016 featured a new Frontera Fest - Best of Fest winning piece that combined the group's signature paper pad aesthetic with several other forms of story telling into one long form dance piece titled Breaking It Down: A Guide. The piece included a surprise five minute section following the path of two secret agent squirrels in a tiny shadow puppet stage, which has been separated from the large piece and performed on it's own on several occasions. The show also included additional two new pieces, Use Your Noodle, and Mourning
Cruelty (film)
Junk Mail
Breaking It Down: A Guide
How to Wear Your Backpack
Use Your Noodle
Mourning
The Back Pack Presents: Fall 2015
Missed Connections
The Back Pack Presents: Fall Showcase 2015 was the first of The Back Pack Presents series, and featured reworked pieces from the group's past, as well as a song cycle written and performed by Katie Kohler and show host Morgan Moody based upon local missed connection ads posted on craigslist. The other works original creation dates ranged from 2008 to 2015, and were all revamped to take place in one cohesive show.
Sweater Vest for Success
How to Crush Crayons
How to Wear Your Backpack
Junk Mail
Cruelty
History before
The Back Pack Presents
Spring 2015: Type Rider- An original puppet piece performed in The 2015 Austin Puppet Incident, a production of Trouble Puppet and Glass Half Full Theatre, that explored issues of mind control by the media. Zac Thomas built the puppet out of an old rocking chair and starred in the performance. Pete, Marie, and Katie operated the puppet.
Winter 2015: Cruelty- Written and performed by Justin Morley and Pete Betcher. Using a classic movement structure in a contemporary setting, Cruelty places two men into an escalating tango of rebuttal. Inspiration for this piece comes from elevator music and rude restaurant patrons everywhere.
Winter 2015: How to Finish a Sentence - The third in a series of rhythm-based movement pieces combining music, drawing, and dance to explore expectation and whimsy. How To Finish a Sentence went on to perform in Frontera Festival's Best of Fest, a third year in a row win for The Back Pack.
Winter 2014: How to Crush Crayons - A brand new movement/music/clowning fusion piece that called upon the same paper tearing convention as HWYBP. Crayons was created specifically for the short fringe at the Hyde Park Theatre, and featured more than 100 line drawings worn by just three performers. The piece, like HWYBP, was selected from 80 entrants to perform in the Best of the Fest.
Winter 2013: Going Postal and How to Wear Your Back Pack, Remixed - For their first performance in Texas, the recently reunited group of four tackled the task of reinventing both pieces for Frontera Fest in Austin. How to Wear Your Back Pack went on to earn Best of the Fest honors.
Summer 2010: Going Postal - The first full length feature presented by The Back Pack, Going Postal took the style of the shorter pieces to the next level with a melting pot of dance/animation/music/theatre/and clown. The show follows a letter thrown into the world without a stamp or a return address, and must somehow find her way to her destination with the help of others and a little bit of luck. The mix is a smart comedy that is friendly to all ages, and constantly changing from start to finish!
Spring 2010: Glhamorous – Placing an even heavier emphasis on story than its predecessors, Glhamorous featured characters dressed as either Box people (literally large card board boxes, think washer/dryer size, crafted to look like people) or giant hams (yes, holiday style glazed spiral cut hams). The two types populated a world where boxes lived blue collar lives, and the hams lived lavishly as pop icons. This is where glHAMorous is derived from. The show followed the troubles of a nice Man Box as he finds out his Glam Ham wife has fallen for another Man Ham. Play debuted at the Ten Minute Play Festival in 2010, but has seen a few revivals at Saturday markets here in Missoula over the Summer.
Fall 2009: How to Powerstrip – Taking much of what made Backpack memorable, and applying the concepts to light, this piece focused on electrical cords, rope lights, glow sticks, and (of course) a single power strip to power everything. It was performed almost entirely in the dark, and followed a sporadic tangent filled storyline including everything from rope light stick figures, a banana phone, ghost busters, and modern dance. Show premiered during the Ten Minute Play Festival in 2009.
Fall 2008: How to Wear Your Backpack – This was the first big hit, and the origin of the group name "The Back Pack". The piece used wearable pads of paper which were shredded during performance to reveal the next page underneath. Pages could change performers instantly into a new costume, new set piece, new prop, etc. as needed. Originally performed during the Ten Minute Play Festival at the University of Montana, the piece went on to host its own performance in December 2008, and was featured in the ACDF Benefit concert in January 2009.
Summer 2008: Sweater Vest for Success – Also created for the same show as The Buffalo Returns, and in many ways the first piece that began us down our current path, which I like to call rhythm based movement pieces. It isn't dance, but it is movement to music. It might help if you think of it simply as a Movement Narrative that borrows heavily from other genres, including dance. This piece was inspired by imagining a three dimensional character living in a two dimensional world, and having to abide by those rules. Was also brought back and performed at the ACDF Benefit concert in January 2010.
Summer 2008: The Buffalo Returns – Another tap dance piece, in many ways a sequel to Sell the Buffalo, which took all the aspects of the original, and turned them up a notch with a greater emphasis on story. This piece was part of a dance show at the Crystal Theatre put on by When in Rome Productions here in Missoula.
Summer 2007: Sell the Buffalo – The first piece done as a group was a tap dance piece focusing on creative choreography, and exploring the unexpected. The name comes from the title of a popular tap dance move called "the Buffalo" which was featured in the dance. During rehearsal, when we were coming down the home stretch someone would often say "aaand.. Sell the Buffalo!" and the name stuck.